Feeding Device
YSJ

(Semi-positive Yarn Feeding Device)
・Improving workability and saving a space by vertical shape   with slender design
・Compatible with variety of yarn types
・The mechanism, which prevents yarns from getting easily   entangled, helps boost the operation rate of the machine
・By stable feeding tension, promising the fabric production  with even higher quality
Feeder Detector
Bottom Stop Motion

(Feeder Detector)
・Downsized Bottom Stop Motion and improved workability
・Increased sensing speed of bottom stop motion in yarn     breakage
・Easy Maintenance & Enhanced user-friendliness
FUKUHARA Auto Knit (ATSS ・ ACSS)
ATSS/ACSS

Reducing the time for adjustment during preparation/production.

Stitch amount and yarn feeding amount can be adjusted on the operation panel by Auto Knit System consisting of Auto Tape Speed System (ATSS) and Auto Central Stitch System (ACSS). Auto Knit enables reduction of adjustment time before/during knitting and excellent reproducibility of products.

         (ATSS)

         (ACSS)
Frame
OD-frame

Eliminating center crease problem with open width take-up device. Dispensing with slitting and opening in the subsequent process.
OD5-frame,OD5B-frame 【OD5 Take-up (Open width take-up unit) 】

MODEL: OD5-MXC-E3.2RE

MODEL: OD5B-M-LPJ3B
The open width take-up unit is used to slit, open and roll up a knitted fabric on the knitting machine. It slits and opens the fabric directly from the knitting head before it gets creased and thus produces center-crease-free fabrics.
Our OD5 (for Single Knit) and OD5B (for Double Knit) frames are open width take-up units and are capable of stably producing knit fabrics which require stronger take-up tension. This also enables the production of elastomeric-yarn-plated fabrics without center crease.
< Main functions and features >
1. Servomotor driving system
Until now gear changes and QAP adjustments were necessary on open-width take-ups whenever the take-up amount was changed. With the OD5 and OD5B frames, these adjustments can now be made simply by entering the desired take-up production values into the operation panel thanks to the latest control technology utilized by the new servo motor driving system. The take-up amount value can be inputted in increments of 0.1mm, enabling the user to make adjustments freely and easily
* OD5 and OD5B frames with super high leg (700mm diameter rolls) are driven by three motors and so the speed ratio between the take-up rolls and friction rolls can be changed via the operation panel to allow the user more delicate control of the fabric roll.
2. Weight reduction
The whole OD5 and OD5B take-up units were newly designed, resulting in a major weight reduction compared to current take-up units. This weight reduction decreases the amount of stress exerted on the machine, thereby making faster speeds a reality.
3. New take-up roller system
On current take-up devices, gear changes are necessary to change the revolving direction of the rollers when making the conversion from open to tubular rolling. On the OD5 and OD5B take-up units, the take-up roller system was modified from a 3-roll to a 2-roll system, eliminating the need to change gears when converting from open to tubular rolling. This new system greatly improves work efficiency.
4. Swing type latch unit
The opening and closing of the latch unit when removing fabric rolls, has been made easier due to the adoption of a swing type latch unit.
5. Newly developed "M" frame
The OD5 and OD5B width take-up units are fitted standard to the newly developed M-frame. In addition to improved strength and precision, the legs were made more compact and the overall usability has been improved compared to previous frames. Also, most of the popular aspects of the normal V-frame (easy access to the knitting area, sliding parts, and conversion related parts) will remain in place on the OD5 and OD5B frames.
6. Steel machine guards
Safe and solid steel machine guards are used. The highly visible windows allow the operator to easily check for faults on the fabric being knitted. Optional work-step can be fitted to the machine guards.
7. Movable cutter unit
The cutter unit moves to the best cutting position in accordance with the width of the size ring (Cadratex). The cutter blade using a highly wear-resistant material can handle special types of fabrics such as spacer fabrics.
8. Tubular fabric take-up
Tubular fabrics can also be rolled up by simply replacing some parts.
9. Fabric tray for doffing
The OD5 and OD5B take-up units come with a fabric tray with casters which is used for taking out a fabric roll from the machine.
 
 

MX-frame

・Sliding parts and conversion parts are inherited from our VX-frame.
・Improved frame strength and accuracy compared with our conventional VX frame.
・Lower frame height for improved accessibility to the knitting head. (53mm lower than that of VX-frame).
・Slimmer machine legs have also improved the accessibility to the kitting head.(Slimmer machine legs)
・Lighter and stronger machine guards.
・Equipped with motorized automatic take-up unit ACT-6 having reduced weight and improved maintainability (take-up rolls can now be exchanged more easily).
・Equipped with Cadratex as standard.
・A remote inching button is provided as standard.
・Central stitch control mechanism allowing stitch density of a basic knitted structure to be instantly changed is available.
(optional when ordering)
・1 handles are provided as standard.(But may be 2 handles by a model)
・2-machine-guard specification is available (optional when ordering).

MX-frame        VX-frame
Take-up
| | |
| --- | --- |
| ACT Take-up | Setting optimum take-up tension automatically. |
| | |
| | Motorized ACT take-up system is capable of rolling up a fabric with stable winding tension. Take-up tension is easily adjusted on the operation panel. |
| |   |
| Lapping Take-up | Eliminating center crease problem. |
| | |
| | Spandex plated fabrics are prone to center crease problem. This lapping take-up device folds the knitted-down fabric on the receiver instead of winding it on the roll in order to avoid center crease problem. Large-sized receiver can accommodate a fabric in large quantity. This device is easily convertible to center roll take-up system with simple operation. |
Special jigs
Special jig for facilitating needle dial change

Removal and fitting of needle dial can easily and speedily be done whenever gauge alteration, etc. is required.
The arms of the jig are adjustable to fit V-frame machines with different diameters (26"-38").
 
 Part No. 00-1124GA (Assembly)    The jig attached to a machine
 
This jig has been designed for Fukuhara double knit machines having Quick Change System. However, this cannot be used for our electronic double knit machines using SS-Actuators.
To order, please contact our agent in your country.
FDS for windows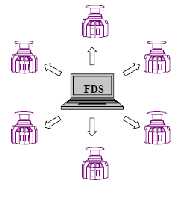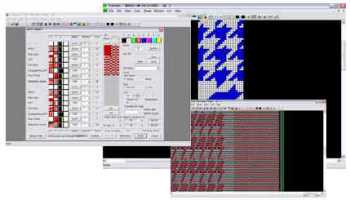 【Windows compatible knit design system】
Developed as a pattern designing system for our electronic jacquard machines
・Most advanced software making the full use of Windows functionality
・Pattern data can be converted to BMP, JPEG and TIFF.
・Compatible with peripherals such as printers and scanners
・Pattern transfer via the internet
・Compatible with Windows2000/XP/Vista/7/8 (32 bits version)
Attention) 64 bits, and some functions include a limit.
FMA (Fukuhara Mobile monitoring Application) (option)
~Knitting machine information is displayed to a Wi-Fi terminal
【Android compatible monitoring system】
FMA can display knitting machine information (operation speed or stop factor) via Wi-Fi devices, such as smart phones or tablets, in real time. In addition, FMA can remotely stop knitting machines as needed.
[ Operation requirements ]
・FCP-60 (Operation panel)
・Android device (not compatible with iOS)
・Wi-Fi connection